Businesses today must constantly look for innovative solutions to increase operational efficiencies and remain competitive in an ever-evolving digital environment. SAP Bluefield Implementation has emerged as a revolutionary approach that leverages existing SAP systems and intelligent technologies while simultaneously harnessing their respective benefits. In this blog post, we'll examine this concept further – exploring its benefits, key considerations, and strategies for a successful transition. Whether embarking on a digital transformation journey or looking to optimize the existing SAP landscape, this guide can provide invaluable guidance as you embark on this transformation or optimization journey.
Introduction SAP Bluefield Implementation
SAP Bluefield Implementation is an innovative methodology that enables businesses to upgrade their SAP systems while minimizing disruption to operations. It combines elements from both brownfield (where the existing SAP system serves as the basis) and greenfield approaches, seamlessly incorporating new technologies and functionalities. The goal is to achieve business transformation while mitigating risk and increasing value creation.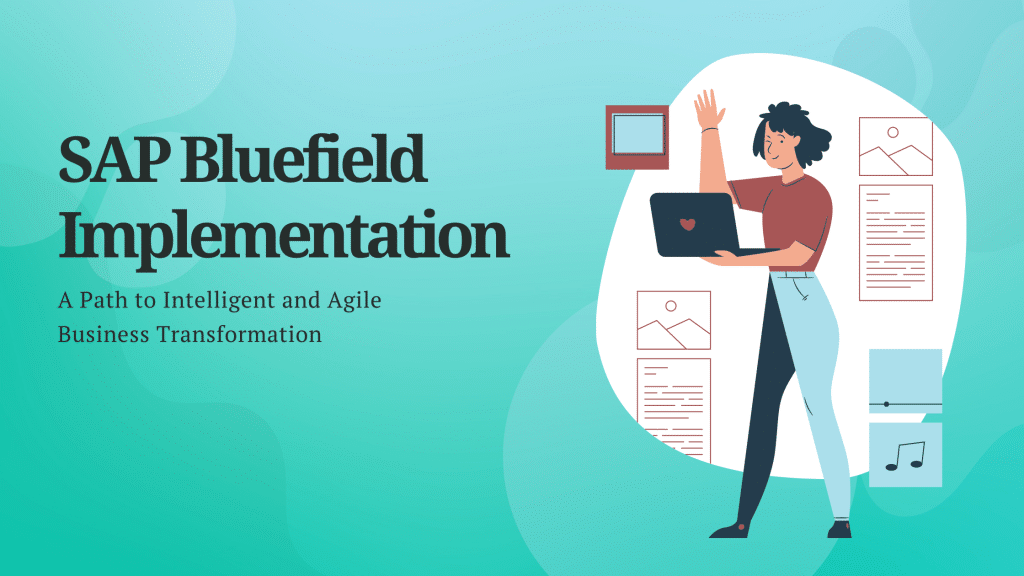 Bluefield implementation with selective data transition is an innovative method for migrating SAP S/4HANA systems. While Bluefield projects may be daunting and demanding, their results can help companies to increase efficiency, productivity, and competitiveness – creating lasting and positive change within organizations.
SAP Bluefield Implementation offers organizations a strategic and pragmatic way to manage business transformation using intelligent technologies while minimizing disruption. Organizations can leverage existing SAP systems to leverage agility, scalability, cost-effectiveness, and continuous improvement on their digital journey. Successful implementation requires careful planning, stakeholder engagement, continuous improvement strategies, and access to SAP consulting expertise and IT knowledge, allowing businesses to embark on a Bluefield path that drives sustainable growth while positioning them for future success.
In this article, we will explore the benefits, challenges, and best practices of Bluefield implementation with selective data transition.
What is Bluefield Implementation?
A Bluefield implementation is an approach that combines elements from both greenfield and brownfield implementations, including building from scratch in greenfield while updating or altering an existing system in brownfield; Using a Bluefield implementation allows one to build new systems while still taking some existing processes and systems into account.
Bluefield implementation is a hybrid strategy for SAP implementation, combining elements from brownfield and greenfield approaches. A Bluefield migration involves migrating some systems and data to SAP S/4HANA while preserving other existing SAP components for operational reasons. This approach may be suitable for organizations wanting to take advantage of all its new features while still needing some of their legacy systems and data for operational needs.
What is Bluefield Implementation with Selective Data Transition?
Bluefield implementation with selective data transition is a hybrid strategy that leverages both greenfield and brownfield implementation approaches, offering organizations the chance to migrate to SAP S/4HANA while still keeping some existing data intact—an approach ideal for organizations that wish to migrate without risking losing any precious information.
Benefits of Bluefield Implementation with Selective Data Transition
First, the SAP S/4HANA migration may help to minimize disruptions to business operations. By maintaining existing systems and data for as long as possible during migration to SAP S/4HANA, operations should continue normally while transitioning.
Second, a Bluefield approach can save time and money by taking advantage of existing systems and data within an organization's current systems to avoid recreating them within SAP S/4HANA.
Thirdly, adopting a Bluefield approach can help organizations enhance data quality. Organizations can ensure their data remains accurate and up-to-date by migrating information from existing systems to SAP S/4HANA.
However, using a bluefield approach to SAP implementation presents several challenges. First and foremost, identify which systems and data should be kept and which should be moved to SAP S/4HANA. Furthermore, integration challenges between existing systems and data and SAP S/4HANA may prove challenging, as may training employees on its use.
Best Practices for Bluefield Implementation with Selective Data Transition
Plan Ahead: Organizations undertaking Bluefield implementation with selective data transitions must carefully examine their data to ascertain which pieces need migrating. To accomplish this goal, an in-depth knowledge of their own organization's data and an organized migration strategy plan must be acquired.
Testing and Validating: Testing and validating are integral to Bluefield's implementation of selective data transition. Organizations should test each stage of the migration process and validate that their new system fulfils the requirements and objectives of their project.
Data Cleansing: Data cleansing is essential when transitioning data selectively through Bluefield implementation. Organizations need to ensure the information transferred is accurate and complete, thus necessitating a cleansing process designed to identify duplicates, errors, and inconsistencies before being transferred over.
Training and Support: Implementation with selective data transition requires comprehensive training and support services from their vendor, so organizations should prioritize providing those services to Bluefield implementation projects.
Key considerations for a Bluefield SAP implementation:
Migration of Existing SAP Data to SAP S/4HANA: The initial step in any Bluefield implementation should involve migrating existing SAP systems' data to SAP S/4HANA, which may involve complex and time-consuming processes. Therefore, this migration must be properly planned and executed.
Once the data has been transferred, the next step is integrating existing organizational systems with SAP S/4HANA. The creation of interfaces is required in order to provide easy data transfer across systems.
Employee Training:
Last but not least, employees need to master SAP S/4HANA. Training should include the fundamental system operations as well as any special features or functionalities.
Bluefield Although implementing SAP might be a difficult and complex process, it is also doable with careful preparation and deployment. By properly planning and executing the migration, organizations can successfully migrate to SAP S/4HANA with little impact on their business operations.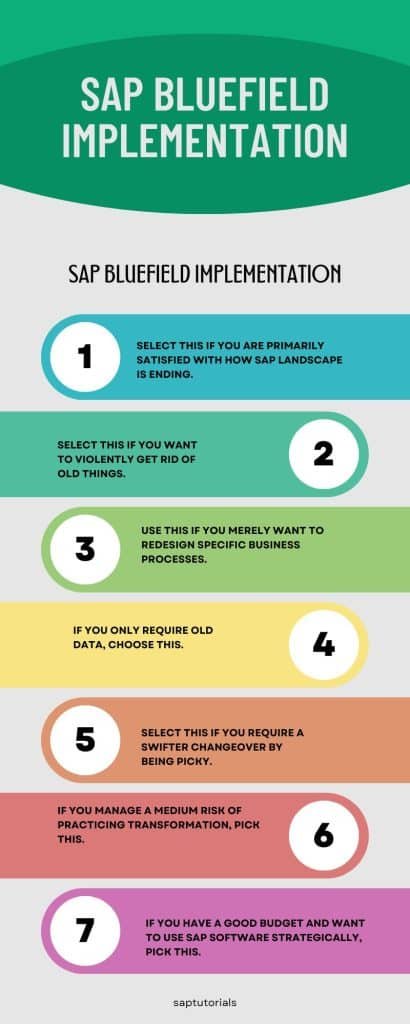 Conclusion
A special hybrid approach known as "Bluefield implementation" combines brownfield and greenfield techniques and provides adaptable, economical, and speedy approaches to assist firms in developing new systems while simultaneously integrating their existing ones. Because it reduces risk, increases user engagement, and has a higher potential for ROI, Bluefield implementation should be thoroughly considered before starting a project.
The best option for firms that wish to utilize all of SAP's new features and capabilities may be to adopt it via a bluefield strategy. It must, however, continue to use a few of the current systems and data for operational reasons. Before deciding, it is advised to carefully consider the advantages and disadvantages of this course of action.
You might also like the below articles.