Considering greenfield vs brownfield implementation, it is essential to know their main distinctions. A greenfield project is creating a new template designed for SAP implementation from scratch, and a brownfield plan is a process of redeveloping the existing project. When businesses are looking to adopt SAP S/4HANA, they have two primary options available to them: the greenfield method (New Implementation) and the brownfield method (System Conversion; Re-use)
In this article, we will attempt to cover the approaches to implementation that could help the sap consultant.
Greenfield vs Brownfield: Introduction
If you are thinking about SAP S4/HANA Implementation, the first thought that comes to mind is the best implementation to consider. There are two kinds of development: brownfield and greenfield. It is essential to comprehend the significant differences between the two. You can also choose selective migration, an intermediate course between brownfield and greenfield (formerly the term "landscape transformation in blue fields), or the hybrid approach. However, this article will focus on Greenfield, bluefield, field brownfield implementation approaches.
Therefore, the brownfield and greenfield approaches offer different alternatives for changing the SAP ERP application to the S/4HANA system. With the greenfield option, businesses start a new implementation of SAP S/4HANA software.
Greenfield development is starting from scratch and creating a new temple for S4/Hana implementation.
While the brownfield method stands for a software update that preserves all settings and data. Selective migration is a method of the strategic approach that is based on brownfields.
Brownfield development, however, is working on redeveloping an existing version of the SAP Project
What is the Greenfield Implementation approach?
The Greenfield approach is the beginning of a new chapter and a fresh start using SAP S/4HANA. By using the greenfield approach, the implementation will always be in line with the SAP standard and best practices.
The Greenfield method is appropriate for both current and prospective users. The Greenfield approach is the only one that can make the switch towards"the "new world" of S/4HANA using SAP Best Practices feasible. It also facilitates the elimination of workarounds that are no longer needed and provides organizations with more flexibility for future needs.
The Greenfield implementation strategy is to start with a fresh start. A Greenfield method of transitioning to SAP ECC and moving to SAP S/4HANA involves a total overhaul of the organization's SAP workflows and processes. In addition, any customizations that you've made to SAP ECC are completely erased when you go through the Greenfield implementation.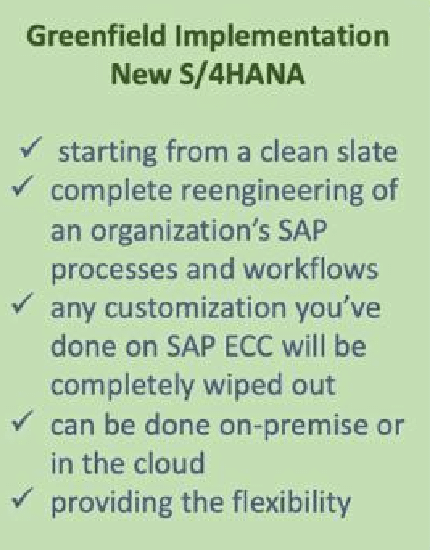 There are benefits and drawbacks to this strategy. Suppose you're a company that has been using SAP for a long time and has accumulated a lot of complex workflows and software that's extensively modified and customized. In that case, the Greenfield strategy could be the beginning of revamping how it uses SAP and cutting down on the complexity.
The Greenfield approach, carried out on-premise or in the cloud, allows users to create predefined migration objects. And Greenfield implementations result in lower total costs of ownership and faster time-to-value. The primary advantage of the Greenfield change is that it begins with a new system that allows control over subjects such as standardization and simplification, in addition to the migration itself.
With the Greenfield method, you could have the essential elements of SAP S/4HANA running in just three months. But the fact is that moving all of your data to the blank system could be a lengthy process because it's a significant task that will require more than three months.
Additionally, it is true that the Greenfield strategy is riskier than a different approach. This is because you will also need to create any adjustments crucial to the business you previously had running on an SAP ERP system, which is also a substantial period.
Another option with a Greenfield method is to start with a selective blank page in specific areas, allowing you to use the opportunity to streamline procedures, integrate systems, and create custom code. This is referred to in the field of "selective greenfield."
What is Brownfield's Implementation approach?
The Brownfield method is more of an upgrade. By using the Brownfield method, you will achieve SAP S/4HANA operational and simultaneously move the existing SAP workflows and systems to the latest versions of SAP S/4HANA.
Additionally, you can preserve the business processes you've developed and the customizations you've used to manage your information because you don't need to transfer all of it. The Brownfield method lets you review and alter your existing processes, and then share them with effective ones.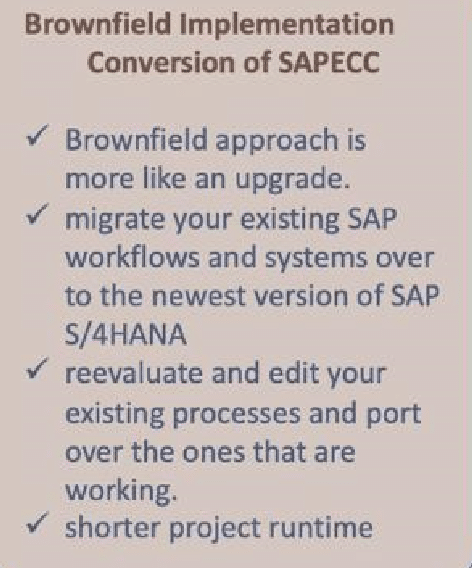 The primary benefit for Brownfield is that it generally has a lower project duration, which means less disruption for your company. Brownfield is a Brownfield approach that allows you to migrate to SAP S/4HANA without starting a change in implementation or disrupting existing processes. It builds on the existing parts of the SAP environment, like interfaces with suppliers and partners.
However, Brownfield has its disadvantages. Since you're transferring everything from the last SAP ERP, the process is often considered a barrier to development. The effectiveness of the Brownfield implementation is based on the extent to which your processes and procedures are duplicated.
Because of the complexity involved in porting workflows and customizations, the Brownfield implementation should be done on-premises. Brownfield is the best choice for those who want to keep using their existing solutions but want to change from SAP ECC to SAP S/4HANA quickly.
What is Bluefield implementation in SAP?
Bluefield is a term that has not been officially used by SAP. Bluefield is not an official term employed by SAP which uses the time -Selective Database Transition (SDT) for similar methods. Customers are informed of the Bluefield shift to increase their investment into Config and Developments.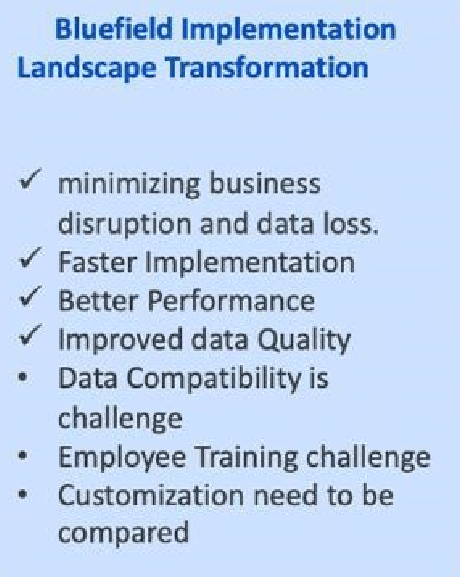 Blue Field Transition provides a possible alternative Greenfield and Brownfield Methods of going Live using SAP S/4HANA. In the Blue Field Project, we only migrate relevant historical data and remove obsolete records. Blue Field Transition usually is completed in the direction of ECC to SAP S/4HANA.
Blue Field Transition is only available to the S/4HANA (RISE-Private Cloud) or (On-Premise). However, it is not available to S/4HANA's Public Cloud.
The information transferred could include any or more of these:
ABAP objects
Configuration data
Transaction data
Bluefield Transition is considered when companies would like to:
Reusing configurations and developments developed over time reduces the need for re-implementation.
Large quantities of data from the past
A Bluefield transition shell conversion can be accomplished in two ways: mix and match and direct conversion. In Shell conversion, a replica of that SAP system is created with configuration as development but no master or transaction data. This is then transformed into SAP S/4HANA.
When Mix and Mix are performed, a brand new S/4HANA base installation is made, and then a portion of the configurations already in place and ABAP objects are transferred or transferred manually.
Bluefield is a hybrid approach that keeps the benefits of the current system while allows for more flexibility during the live phase of definition. It allows for different do-lives for plans, business codes, downtime, and optimization. It provides the chance to review the data and customizations that have been used for a long time.
It also permits businesses to change their systems to meet the new business concepts outlined by S4/Hana. In this way, each business must analyze risks before deciding on specific cloud migration options. rapidly adopted new business strategies or used new technologies like machine learning or the internet of things.
Learn about the benefits of greenfield vs brownfield development.
Brownfield redevelopment and greenfield development are methods businesses can employ to develop or enhance their processes, systems, or infrastructure. Each comes with its advantages and disadvantages. The business objectives, the resources and limitations, and the project specifics will determine the best strategy for the specific company.
Greenfield implementation has many benefits:
Innovative: Greenfield development allows businesses to develop something unique and genuine without being constrained by processes or systems already in place. This could open new possibilities for expansion and growth.
Individualization Greenfield development allows firms to develop and construct processes and systems customized to their particular needs and objectives. This will result in more efficient operations.
The flexibility: Greenfield development projects offer greater flexibility as they allow companies to shift their focus or pivot as required in the course of development.
The benefits of brownfield implementation:
Effectiveness: Brownfield redevelopment allows businesses to improve their existing systems and processes incrementally instead of beginning with a new system. This could result in efficiency and lower costs. Integration Brownfield implementation plans may prove easier to integrate into the existing processes and systems because they build on an existing one.
The cost: Brownfield redevelopment projects tend to be cheaper than greenfield development projects because they require fewer resources and require less time to finish.
Choosing the right implementation path for your company: greenfield vs brownfield?
There are a few things to think about when deciding whether to pursue brownfield or greenfield options for development:
Business Goals What are your business-specific goals or the goals of the development plan? Greenfield development is better suited when projects involve creating something entirely new, whereas brownfield development might be better suited to tasks that require upgrading or optimizing existing processes and systems.
Resources: Are there resources available for development projects? Greenfield development is generally more resource-intensive since it requires building everything from the ground up. If your business has limited resources, A brownfield development option could be more suitable.
Complexity: Greenfield construction projects are typically more complicated than brownfield projects because they require building the entire structure from scratch. This could increase the time and money needed to complete the project and the chance of setbacks or delays.
The flexibility: Greenfield development projects offer more flexibility since they permit businesses to design and create processes and systems tailored to their requirements and objectives. However, Brownfield development projects are more limited by the procedures and techniques that are in existing processes and systems.
In the end, the best development route to take is based on the specific requirements and objectives of the company and the resources and limitations in place. Speaking with professionals or experts with previous expertise in development projects can be beneficial to assess each method's potential risks and advantages.
Greenfield vs brownfield: Which is better for your business?
Whether a greenfield or a brownfield is more suitable for a particular business depends on the particular objectives, the resources and limitations of the company, and the specifics of the project in general.
Greenfield projects are entirely new, requiring starting with nothing but the beginning, building something completely new, and making all needed processes, systems, and infrastructure from the beginning. Greenfield projects are usually connected with growth and innovation because they permit firms to develop fresh products and services. They also allow businesses to enter market segments that have yet to be available, and explore new opportunities, without being stifled by the existing processes or systems.
The new system allows businesses to test their existing in-house development and third-party software and determine if these functions still need to be present within SAP S/4HANA's standards and best practices.
The current business processes will stay the same due to this new strategic process using greenfields. The existing SAP system – like SAP ERP 6.0 will continue to run in tandem with the transition until the new system, S/4HANA, is ready to operate.
However, brownfield projects involve altering and updating the existing process, system, or infrastructure. Brownfield projects typically focus on efficiency and optimization because they permit businesses to incrementally improve their current processes and systems instead of beginning all over again.
The final decision on whether to go for a greenfield or brownfield venture should be based on an in-depth analysis of the company's objectives, resources, constraints, and goals, along with an evaluation of the negatives and advantages of each project. Whether greenfield implementation, as opposed to a brownfield, is better for business
The final decision on the best approach to take is based on the specific requirements and objectives of the business in addition to the resources and limitations available. It can be beneficial to seek out experts or experts with experience with development projects to assess each method's possible risks and advantages.
In conclusion
In the end, greenfield development is typically the preferred option since it does not require redesigning an existing site which is costly and disruptive. However, Brownfield development is more affordable and less disruptive; however, it might need cleaning before redevelopment can occur. Ultimately, every type of development comes with particular strengths and drawbacks, so it's crucial to pick the most suitable solution for your project.
You might also like the below articles.